In 2014 I had for all intents and purposes retired from paid church ministry work. Twenty plus years of working with teenagers, parents, churches across the country, and other youth workers had left me in a place where I was physically unhealthy. The problem, at that time, was that I had not done any fitness care in over 10 years (maybe more) and possessed no knowledge base to get myself back into physical wellness. So right before I turned 40 years old I started what I am calling my fitness journey.
What I Wanted to Avoid
Quick Fixes: I wanted to avoid quick fix ideas and notions. They would not work for me. I had spent the greater part of a decade or more ignoring my health, it was going to take a good deal of commitment to get to a healthy level of fitness. The quick fixes revert back to old statuses as quickly as they give you results.
Doing This Alone: I had no idea where to start. No fitness baseline to work with (except that I could play a round of golf with use of a golf cart). If I started alone I would do this whole thing wrong and likely give up before any tangible result surfaced.
What I Found Works For Me
I took the plunge (after much prodding from my wife who said I would be good at it) to sign up for a foundations class at my nearby CrossFit gym (Shackle Island CrossFit). No idea what I was getting myself into. My exchanges with my trainer went as such:
Trainer: When was the last time you worked out?

Me: Probably before you were in middle school?

Trainer: Ok…

Trainer: When was the last time you climbed a rope?

Me: Before you were born.

Trainer: [blank stare]

Trainer: When was the last time you did weights with a barbell?

Me: Never..

Trainer: Ooookay…
That early morning I started, what has become, a grand adventure in building back my fitness levels and gaining a boatload of confidence that I never knew I lost (or maybe just misplaced). I also learned a new vernacular of strange verbage like "snatch" & "jerk" that are not offensive in the least bit.
Those early days I would be laying on the floor staring at the ceiling as everything I saw spun in circles. I would sweat so profusely that I would take towels to sit on in my car on the ride home. In those early days I would subject myself to workouts that I was so sore from afterwards that I thought of installing handicap bars next to the toilet and an elevator by the stairs because I could hardly move.
It sucked. Yet, I loved it all.
I loved the people at my CrossFit gym. They were encouraging of me at all times, this round fuzzy haired 40 year old they had only just met. I loved that I could see improvements. My body was changing. I lost pant sizes and weight. Mostly though, I could see changes in my range of motion and muscle composition.
I remember starting CrossFit and seeing people do T2B (toes to bar) thinking, "WTH!" and yet a few months in I was surprising myself doing knee-ups (part of the movement progression) and then shortly after doing T2B myself.
Three Years Later
Coming up on three years of my fitness journey start I have completed my third CrossFit Open. These are five weeks, five workouts, that everyone in the CrossFit community around the world competes in. A precursor competition towards the CrossFit Games. My first year in The Open I had no idea which way was up. I did the workouts as best as I could. Year two I had goals of doing one or two of the workouts Rx (as prescribed without modifications). I was able to do three workouts Rx. This past year I was able to complete all five workouts as prescribed. That, has felt really good for my body (after recovering from said workouts) and my psyche.
The residual effects of the fitness journey are working as well. I run around with my kids regularly without issue. Coaching little kid soccer is a joy. My golf game has improved. Walking the golf course & carrying my bag has become my preferred method to play.
CrossFit has & is, working for me.
Fitness Goals
I feel like, for year four of this fitness journey it is time to do two things.
Become proficient in many of the CrossFit movements that, to this day, evade me. Muscle-ups I just cannot get yet. In year four this will happen. Double-unders and hand stand push-ups my proficiency level stinks, this is going to change as well.
Cutting the fat. I have never been a thin fella, but it has become time to work on trimming the body fat percentage and build in lean muscle where I get to that point of optimal fitness. For me, this looks like getting to a steady 185-190 lbs and a 20% BF. CrossFit alone won't do that for me, I'll have to shape my diet for that. That will be another post for another day.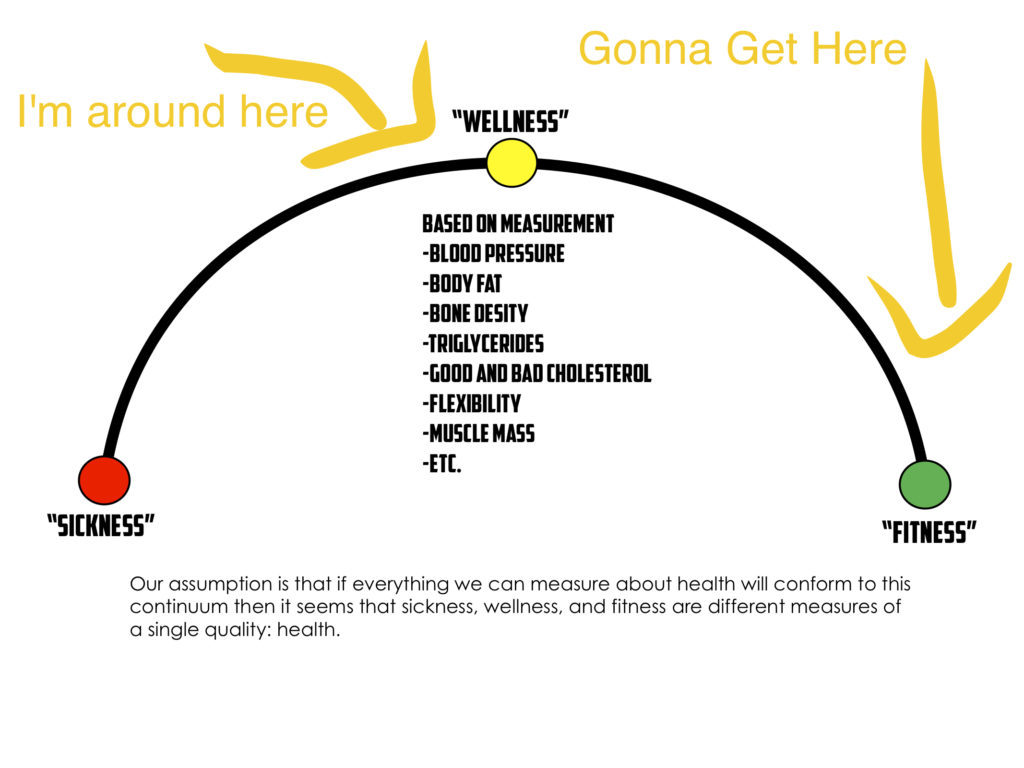 Should You Do CrossFit?
If you want to, sure.. As I have said to folks the last three years, "It works for me." It can work for you as well. It is a commitment to yourself. It is not a quick fix to a problem, it is a lifetime of creating a new you. But, there are lots of fitness programs that could fit you as well. CrossFit works for me. Three years in and I look forward to (or dread, depending on the workout regimen) going into the gym everyday.